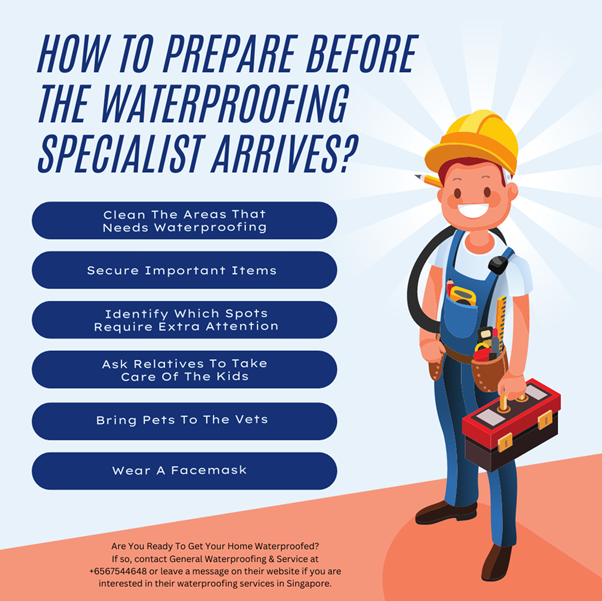 Any building needs waterproofing in Singapore to prevent the water from seeping through, which can cause mould and mildew to build up. Even though these seem harmless, when exposed for a long time, anyone can develop health problems like severe allergic reactions.
Avoid that from happening by getting your home waterproofed by experts in waterproofing services in Singapore. Ideally, preventative waterproofing maintenance takes place every four months, which is three times a year.
If you plan to get waterproofing for your roof tiles and walls, below are the things you need to do before they arrive at your doorsteps.
1. Clean The Areas That Needs Waterproofing
The application of waterproofing products will last longer if there is no dust, greases and other things that can get in the way and affect the waterproofing coating. Proper cleaning can improve the adhesion of the waterproofing products.
2. Secure Important Items
Another thing you need to do before the waterproofing specialist in Singapore comes is to secure important items. Doing so should avoid situations like something went missing. In that case, keep valuable things inside a locked room, or you can rest in a self-storage unit.
3. Identify Which Spots Require Extra Attention
While cleaning the areas that need waterproofing, you should pay attention to which spots need an extra coat of waterproofing products. Letting the waterproofing specialist know ahead of time will reduce their inspection time, and they may proceed with the waterproofing application.
4. Ask Relatives To Take Care Of The Kids
Even if your metal roof requires waterproofing in Singapore and is out of reach of your children, they may inhale waterproofing products. These have chemicals that can be harmful to their health.
Since two applications of waterproofing products take 24 hours to dry, you should let your relative take good care of your kids for a while.
5. Bring Pets To The Vets
The same goes for your pets, so you should bring them to the vest before the waterproofing experts arrive at your doorstep and begin the waterproofing process.
6. Wear A Facemask
If you plan to monitor the waterproofing process, you should wear a facemask. This PPE can protect you from inhaling harmful chemicals that can cause you health problems.
Are You Ready To Get Your Home Waterproofed?
If so, contact General Waterproofing & Service at +6567544648 or leave a message on their website if you are interested in their waterproofing services in Singapore. Consider letting them know about your concerns and when they should do the waterproofing when you inquire.