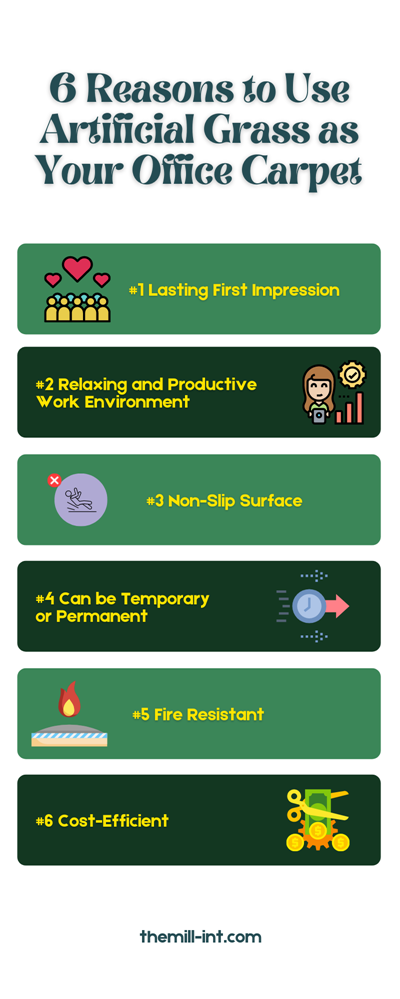 One might think that artificial grass is not an appropriate office carpet choice. Boy, are they wrong! Here are six reasons that prove artificial grass is a great carpet choice for your office.
#1 Lasting First Impression
Installing artificial grass in your office creates a favourable first impression for potential consumers. They'll be astonished at how good it feels underfoot. Think about how many people they'll tell about you!
#2 Relaxing and Productive Work Environment
Green can help individuals relax while making them feel more in-tune and energised. Installing fake grass in your office will make it a much more pleasant workplace.
#3 Non-Slip Surface
If your workplace is hazardous for your staff to work in, you might be the target of a lawsuit. Artificial grass produces an excellent non-slip surface to cover flooring types such as ceramic or carpet tiles in your Singapore workplace.
#4 Can be Temporary or Permanent
Artificial grass carpet in a Singapore office can be either permanently or temporarily. Professional installers can advise you on the best way to put artificial grass in your business. They may also advise you on the best sort of fake grass to use for the project since different grass varieties perform better than others.
#5 Fire Resistant
The majority of synthetic grass carpet options in Singapore are fire-resistant. If the worst were to happen, the fire would not spread through any fake grass you have planted in the business. However, it is best to look into independent testing before any purchase.
#6 Cost-Efficient
Artificial grass is an excellent investment in your company's future health and well-being. The swift compensation of your initial investment is through improved morale, better production, and fewer employee sick days.
The Mill International is a significant carpet supplier in Singapore. The firm offers carpet tiles, artificial grass, vinyl, entry mats, sports floors, and tufted carpet. They supply various carpet goods and services to give long-term flooring solutions for two markets: Asia and the Middle East.